A Whole New Chapter Begins
*RANDOM PHOTOS INTERJECTED WITH NO SIGNIFICANT TIME FRAME*
Perhaps you've noticed a shortage of repetitive social media posts of me scampering through the mountains.  Maybe it was the lack of moves on Strava if you've been strava-stalking me.  Haven't seen me driving the big red truck? No calls from me looking for a partner to adventure with?  Well, that's because life as I knew it has jumped tracks to a whole new destination.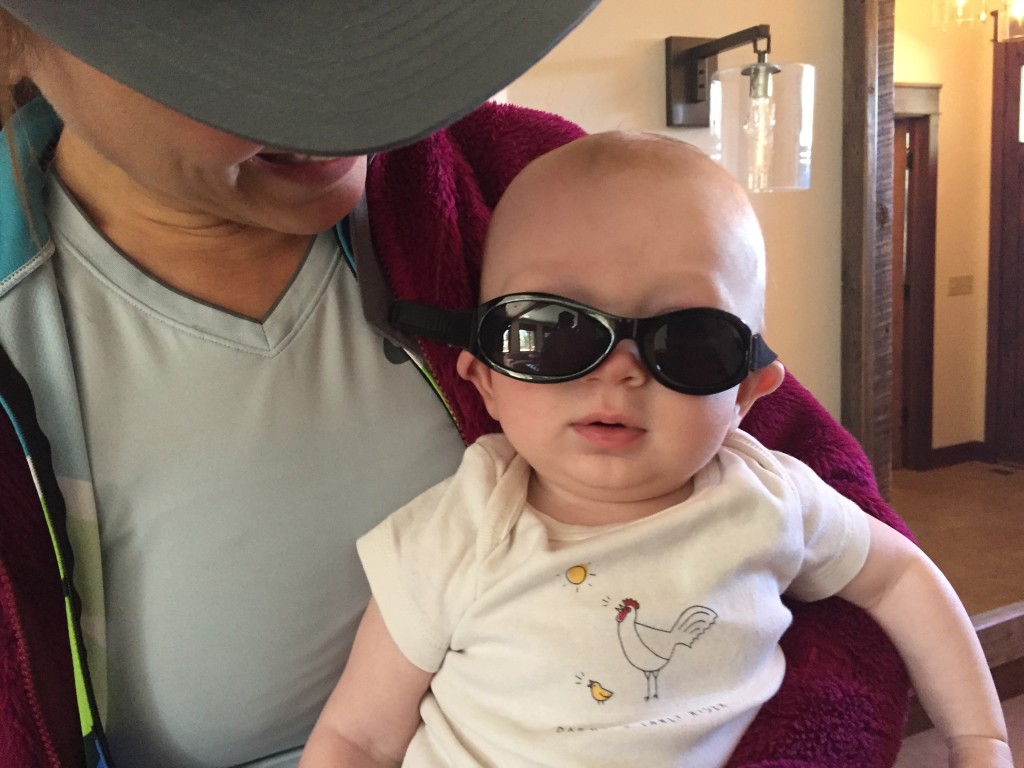 -the litte man, who has gingervitis aka bright sunlight pisses him off
Through a series of multiple events I won't bore you with the details of, I have managed to take the soft cushy Tim Horton's Boston Cream filled donut of a lumbar disc sitting above my sacrum and below my last lumbar and tear it apart allowing that creamy, delicious filling to extrude out and crowd out my sciatic nerve, the nerve which directs my lower leg to spin in circles or skin up slopes repetitively to it's masters content.  Crippling pain shooting down my leg is my constant reminder that the warning signs I'd been feeling all winter were actually my nerve bundle shouting at my disc to backadafucup (ONYX hit album circa 1993).  A "significantly herniated L5S1 disc with extrusion onto the sciatic nerve causing radiculopathy to the right leg".  What that translates to is a pain second only to pregnancy they say, and an individual(aka ME) left unable to work, play, run, sit, lift up his 5 month old, or even put socks on.  "They" say it's a life changing event.  I can attest that it most certainly has been so in my last few weeks, and I can say I've heard similar euphemisms in my constant search for information and expertise considering the injury.  But rather than accept status quo, I'm determined to make this injury a life-changing event in the best of ways.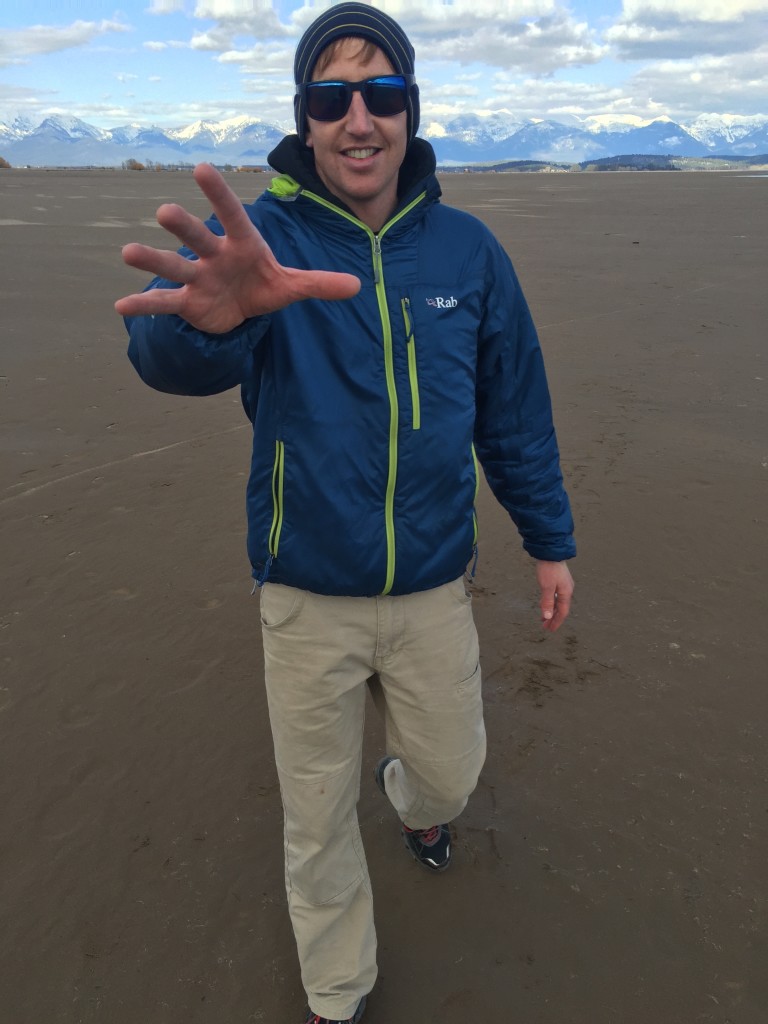 -back when I could walk more than 10 minutes thanks to butt-loads of ibuprofen
It has been just over two weeks since the sciatic pain set in.  Initially I was able to still get out for some walks and could get on the floor to play around with little Row, but that was under a heavy dosage of ibuprofen along with some pain pills.  These days I wake up looking for the first moving train to jump in front of, while evenings I begin to find a glimmer of hope that improvement is happening and I won't need surgery after all, albeit after a couple of strong IPA's.  It has been long enough since I exercised that I actually wonder how I had the time to do it, and I've forgotten about the addicting endorphin's exercise releases which kept me fiending for it every day.  The blue sunny spring days we've experienced still have a graybird feel to them.  A sweet potato sticky bun from Ceres doesn't give the same satisfaction with it's carmely sweetness and gooeyness loading me up with carbs to climb mountains for hours.  Besides, the hourly five minute walks and mini-cobra's don't quite dig away at the caloric mountain the sticky bun builds.  This injury trumps all injuries I've ever experienced, and I use the word trump because this injury really blows, I mean it's the worst imaginable scenario.  My entire life hinges around my back.  My career, my athletic endeavors, my family.  And if you've ever experience back troubles, then you know that there is something deeply disturbing and downright scary about back pain and back instabilities.  I have been in some dark places these last few weeks.  Feelings of hopelessness, believing I'll never get back to work, or be a competitive racer, or even be able to ride a bike pain free.  It is with the answered prayers, the voice of God, and the incredible support and daily positivety and hope my friends and family continue to give me.  It's truly invaluable every time I'm told to keep my head up and that I will one day be back at it and better than ever.  It's crazy that being the positive guy I am I need to be reminded daily that my condition is temporary, and I'll look back at it one day having learned some great lessons and become a stronger man because of it.
-my family who is so awesome and brings me joy even on the really rough days
Today I am attempting an epidural steroid shot directly into the herniation with hopes that it will take the inflammation down and thus the sciatic pain.  If it works, and I feel a notch or two of improvement, it's a really good sign that I might be able to rehab and get back to life without a microdiscectomy.  If I have to have surgery, it's not the end of the world.  But I'd like to keep it as the last resort.  It's certainly tempting to just jump right to it knowing I'd awake with zero sciatic pain and every step would be progress towards being healed.  If in another three weeks I'm still in excruciating pain, I'll likely have to head to surgery and then I've spent five or six weeks in pain for nothing, other than I guess some super depressing character building.
All things considered, I'm coming to a time of acceptance and have adapted to the radical change in my day to day life.  I've learned to find pleasure in a walk around my block.  I've humbly accepted that my therapy in the "Therapy Pool" with the geriatric society is exactly where I need to be.  I've certainly loved getting to see my little boy grow and change every day and have been blessed with so much more time with him than my regular life would ever allow.  Some days it doesn't feel so challenging and I can see a little glimmer of light at the end of the tunnel, other days hope and joy are eclipsed by a massive black hole of fear and pain.
Either way, I'm plotting the journey in hopes that others may find some nuggets of help if they find themselves with a debilitating back injury.
Hope and prayers be lifted up, speedy recovery and surgery free healing if He wills it!
*SPECIAL SHOUT OUT TO JOELSY SHEHAN AT PTA AS THE BEST FRIEND AND PHYSICAL THERAPIST A GUY COULD EVER ASK FOR, CHRIS WOMBEKE AND FLIP CHIROPRACTIC FOR CONTINUING TO ATTACK THE CHALLENGE THAT IS MY FUNKED UP SKELETON AND ALL OF YOU HAVE HAVE SENT ME WELL WISHES, MEALS, ETC.